The origins of whiskey can be traced back to the 15th century when monks in both Ireland and Scotland were distilling aqua vitae (water of life). Over time, these two countries molded their own distinctive styles of whiskey. While it took over 300 years for this spirit to reach America, it was greeted with open arms and in turn grew into its own specific regional style, made by feisty immigrants, all with inane distilling knowledge. Whiskey started its life as a raw, unaged spirit (likened to today's now in vogue, white dog) that had as its main attribute, the power to spur the courage of the first colonists.
The life line of American whiskey has traveled westward with pioneers, mustered the courage of troops during times of war, all the while spurring the women of America to lead the crusade eventually culminating in prohibition.
The once-fervent micro distilling industry suffered a blow when prohibition hit and bootleggers lowered the quality of spirits. Once prohibition ended and liquor production and sales resumed, stiff laws mitigated the resurgence of craft distilleries. Such distilleries that could afford to pay such high financial increments were mass producing and taking charge of the spirits scene. As we see these archaic liquor laws being relaxed in modern times, locally driven distilleries are set to make an impact again.
Present day, it is no surprise that the U.S craft distilling market is growing exponentially. The number of identified craft distilleries has exploded from 70 in 2004 to over 623 today.
Meanwhile, down a street in a little warehouse in Williamsburg, Brooklyn, there is a spark. It is here, at New York Distilling, that the historical art of distilling is taken with an artful, historical approach. Spirited history is rich in this neighbourhood, dating back to the earliest distilleries in the 1700s. Many years later, through prohibition and strife, the intense vapour of craft distilleries is back and with a force in Brooklyn. By starting up one of the nation's premier craft distilleries, NY Distilling is building on the American dream of guts, glory and grains. They have come to create spirits of great quality while also featuring local grains and ingredients whenever possible.
Perry Tot's Navy Strength:
Named for Matthew Calbraith Perry, commandant of the Brooklyn Navy Yard during the mid 1800s. He stood firmly behind his Naval Lyceum "To promote the diffusion of useful knowledge-and cement the link which unite professional bretheren."
While distilling this gin at the original Navy Strength (57% ABV as opposed to most present day at 40%), it is an incredible homage to a time long forgot. At such a high proof, while aboard ships, if the gin soaked into the gunpowder, it could still be shot.
Dorothy Parker American Gin:
With the addition of hibiscus and cinnamon, this fantastic product is NY Distilling's take on a more contemporary style of gin. Dorothy Parker, a New Yorker at heart was known for her sharp wit and deep appreciation of gin. Regularly seated at the legendary Algonquin Round Table, she was both a cultural and intellectual icon.
Chief Gowanus New Amsterdam Gin:
This spirit is a labour of love, being so intensely researched by cocktail historian David Wondrich, in order to find an original recipe for the "Holland Gin" that was prevalent during the Jerry Thomas era in America. It harkens back to the days when Chief Gowanus, of the Canarsees was presiding over Brooklyn when it was still a Dutch community. It follows a recipe based on unaged double distilled rye whiskey, redistilled with cluster hops and juniper and then barrel aged for 3 months.
Enjoy our Dutch courage inspired twist on a Martinez: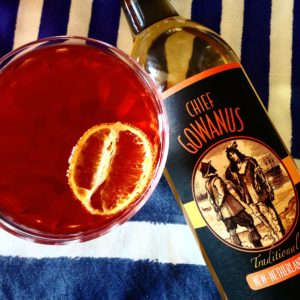 Instructions to a Painter
45 ml Chief Gowanus New-Netherland Gin
20 ml Maidenii Sweet Vermouth
2 bar spoons Maraschino
2 dashes Scrappy's Orange Bitters
Stir all ingredients over ice, strain into chilled coupe, spritz with orange peel, garnish with dehydrated orange wheel
 Proost!
#DrinkIsForSharing
-Julia Diakow