By Julia Diakow
From the beginning of civilized culture, it seems that there has been a profound connection between art and libations. Ancient Egypt, Rome and Greece not only cultivated grapes for wine but paid homage to the beverage through embossed hieroglyphs and paintings. It has even been deemed that alcohol assists in creativity while instilling a sense of confidence.
Drinking cocktails is a precursor to understanding a lot about art. In fact, many artists were under the influence regularly in some way. We are constantly drawn to elements like texture, light and colors, some of which can even be used to effect moods. Whether a cocktail be visually stunning or inebriating, one can be sure that it will have an effect on the artist and art lovers. As bartenders, we are always striving to present a cocktail in the most stunning and inventive way.
Among the many notable artists, Vincent Van Gogh is as well known for his embellished European portraits as his love affair with absinthe.
Van Gogh's painting, "Café Terrace at Night," showcases the beautiful exterior of a café in Arles, which still stands to this day. This piece captures the quintessential image of French décor and class. It is a painting made for conjuring up nostalgia of warm evenings spent sipping Champagne on a Parisian patio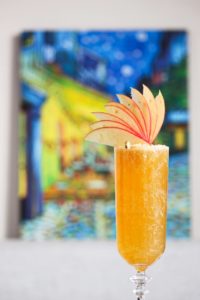 Bel Ami
30 ml Laird's Apple Brandy
15 ml Bittermens Amère Nouvelle

15 ml Lemon juice
2 dashes Cardamom Scrappy's Bitters
15 ml Tarte Tatin syrup*
Combine all ingredients, shake over ice, mist chilled champagne flute with absinthe, then fine strain into glass, top with champagne
Garnish with an apple fan
*Bring 1 cup of Demerara sugar, 1 cup of water, 1 chopped apple and 2 tablespoons of butter to a boil, turn to simmer and leave for one hour before cooling and fine straining. (The extra work for this recipe will definitely be rewarded. Not only does this make for a beautiful cocktail syrup but can easily be added to sodas for mocktails and also in preparing desserts)
-March 2015