Being a part of the bar world, there are many more layers than merely designing a cutting edge cocktail list. Our guests are the quintessential "bread and butter" of this industry. Do you have a particular regular that you love to make drinks for? What is their usual order?
By Julia Diakow
Sarah Parniak
I like to approach all guests as potential regulars, but I'd have to say that serving Andrew Toplack is always a pleasure. His knowledge and enthusiasm for cocktails is infectious; in an interesting reversal of roles, I always learn something new when he sits at my bar. He loves his drinks bold and stirred (Remember the Maines especially), but he's always up for whatever is on offer. We've free-styled together a few times, and one of our recent collaborative cocktails, which he dubbed the P.T. Barnum, ended up on my last cocktail list.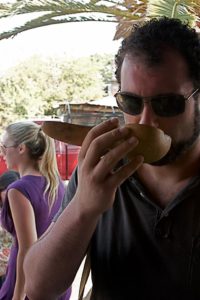 Jon Smolensky
His name is Frank. This guy has been a regular at our bar since we started the operation almost four years ago. He is in luxury sales, so after a hard days' work he comes and sits at our bar and orders a drink or two. He's a champ to have at the bar though. He makes small talk with everyone and we can have him anywhere at the bar and he will make friends. Sometimes, it's relieving to have a regular at your bar; no stress, knows what he wants and isn't afraid to tell you how it is. I've never enjoyed making Vespers so much as when Frank walks in the bar. In fact, we programmed a "Frank's Drink" button into our POS to give him a tip of the cap. At one point he was representing some beautiful watches so we got him to share his wares with our work mates. He recently just moved back into town – we're happy to have him back. Having regulars like Frank are the reason I work in this business.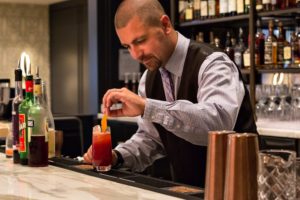 Justin Taylor
I don't know if there is one particular guest that I like making drinks for more than another. However I love to make drinks for people who want to go off menu and explore the back bar. This is how I create cocktail lists. People who come in and say make me something with …!? I love the interaction with the guest. We get to talk about not only the spirit but all the surrounding flavours, and what it will take to make the cocktail perfect for them. It usually follows with another cocktail. Sometimes it's tweaked just slightly or it's altogether different. This experience is essentially hand crafted for the guest. They have allowed me to create not only cocktails but a genuine experience and dialogue of exactly what I do. I try my best to incorporate something local, and bring attention to the people and businesses that help grow our industry right here in BC. These people leave and usually become my regulars, and that's my "bread and butter."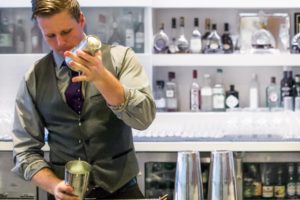 Grant Sceney
At the Pac Rim, we are very fortunate to have many good regulars and they all seem to have a common order: a gin or vodka martini. It's by far the most common drink we make. A well made martini is one of my favourites to indulge in and that being said, I thoroughly enjoy making them. Most guests seem to follow a familiar pattern, one or two martinis after work, sometimes three depending on their day; before moving on to their spirit of choice in a highball. Given that this is a common practice, we have worked hard to offer an extensive and broad collection of gins and vodkas, both local and international. When our regular clientele come through, we can consistently offer a martini that is unusual, interesting, and sometimes even just familiar.
Photo of Grant Sceney, courtesy of Talia Kleinplatz
March, 2015