With Shaun Byrne of Maidenii Vermouth
Shaun Byrne has developed his love and understanding of the beverage industry through a rich career at some of Australia's best bars. It was while managing Melbourne institution Gin Palace that the owner Vernon Chalker introduced him to Gilles. Vernon foresaw that Shaun's cocktail experience and self-professed 'bar geekery' was the perfect complement to Gille's winemaking knowledge. It was Shaun's innate understanding of the classic Martini and Negroni that allowed them to tailor their Sweet and Dry styles with the bartender in mind. Shaun's industry knowledge and enthusiasm has been pivotal for propelling Maidenii to the forefront of the Australian beverage industry.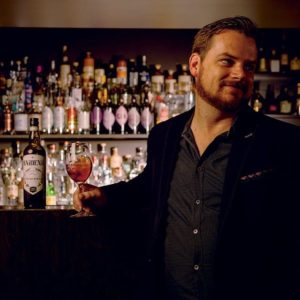 1. Do you have particular cocktails that you find each vermouth works best in?

The Dry was designed with the classic martini in mind.
Stir 15mLs of Maidenii Dry Vermouth with 75mLs of a gin of your choosing, strain into a cocktail glass and garnish with an orange twist.
The Classic is meant to be simply sipped on the rocks. Pour 60 mLs straight from the fridge.
Garnish with an orange wedge to enhance the citrus notes.
As for the Sweet, it should be paired with the classic Negroni in mind.
2. There is still, especially in Vancouver, a slight stigma involved with fortified wines such as vermouth; being that they are drinks Aunt Mildred would sip on. Do you have a difficult time convincing the public of its large range and taste spectrum?
We certainly do, but not because people have negative thoughts on vermouth, but because the general population don't have any thoughts on vermouth! There is certainly a great movement within the category, but that's certainly in a specific type of market. For us, to sell vermouth is to educate people about vermouth, which is incredibly enjoyable. I love showing off our vermouth to people and showing the depth and variety within the category. I certainly get a kick out turning someone into a vermouth drinker.
3. What varietals are you using in your vermouths?
All three are from Central Victoria, but the Dry is Viognier, Classic is Syrah and the Sweet uses Cabernet
4. In the early stages, finding the perfect balance and variety of bittering agents must have been a nightmare (in a good way), were there any herbs or flavors that derailed the whole vermouth once infused?
Our first batch was only 16 botanicals, we came to this after locking ourselves in a room for 14 hours with over a hundred different botanicals. We had an idea of flavors we wanted to showcase and a pretty good idea of how to blend them, being a winemaker and a bartender. The difficulty comes when working with so many ingredients, to give you an idea, blending two botanicals is fine, but when you bring in a third it may emphasize or play down either of the original two, meaning you have to go back and adjust to balance. So with each additional botanical, it becomes a lot more difficult to balance, when we added our final 34th botanical we had to go back and slightly adjust each one before it, and check again, and again, I'm sure you get the picture, its quite a laborious process, albeit an incredibly interesting one seeing the effects botanicals have on each other.
5.
What has been your favorite trade show to attend for both work and play
The GABS beer festival last year was a cracker, although I think it may be topped this year, quite a few interesting ones coming up in the next few months…
 6.
Your favorite local bar?
Without a doubt Gin Palace, it has been responsible for so much in my life, including many epic hangovers!
 7.
Your preferred beer & a shot?
It varies quite a lot, as I type this I am drinking a can of Rodenbach and if I was to pair a shot with it, I'd probably go for a higher abv, not so sweet sloe gin.