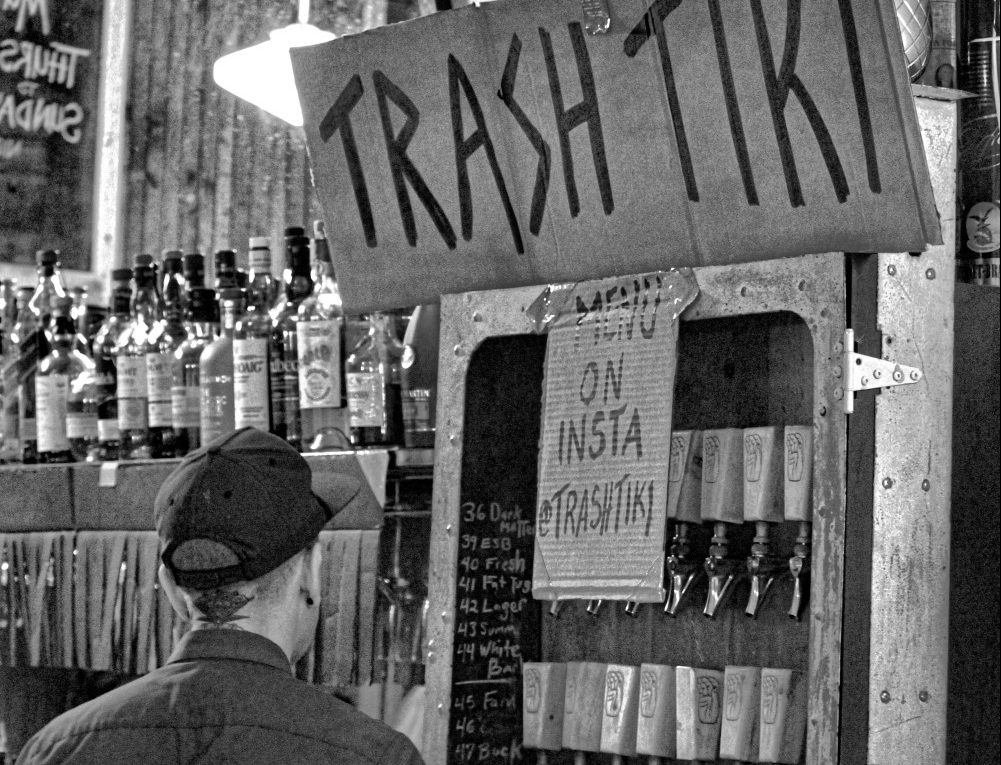 By Julia Diakow
I hate to use the word "trend" as it usually denotes an idea that will come in swiftly and leave just as quick, so let's decide to stay away from calling Trash Tiki a "sustainable trend." Instead, I think it's important to celebrate the idea of taking a step towards helping reduce and recycle, whether it be a small scale one or a large bar program focusing on zero waste. It is up to every single one of us, behind or infront of the bar, to take steps to reduce our ecological footprint. Without further ado, please enjoy the truly inspiring words from Kelsey Ramage and Iain Griffiths, both bar legends from the equally legendary Dandelyan in London. We were lucky enough to call Kelsey our own, as she used to run the bar at the Oakwood in Vancouver. Trash Tiki is the brain child of these two bartenders, aimed to address the excessive waste in bars and restaurants, while teaching techniques to lower them.
Can you tell us a little bit about the history behind Trash Tiki?
We came up with the idea for Trash Tiki after having spent a weekend working together in Dandelyan. Chatting over a beer and a whisky, we discussed the massive number of drinks we had pumped across the bar on the Friday and Saturday nights, and what had to be thrown away before, during and after those services. The idea came as a way of showing the craft cocktail industry that those would-be waste ingredients could still be used for flavour, in an open-forum community that was non-preachy and could actually be a lot of fun. Dandelyan was already one of the pioneers in bars focusing on reusing ingredients. We started the project as an online platform for bartenders, but after the first few pop-ups, we realized there was more of a demand for them than we originally planned. A global tour started to take form after we launched our first pop-up in December of last year at Harvard & Stone in LA, with the help of our good friend, Aaron Polsky. After that, we got a few more requests in and it started to become clear that we needed to take the show on the road, where we could play the music we wanted and start breathing some life back into the word 'sustainability.' Since June of last year, we have been on the road, taking our pop-ups to 46 cities now, from Singapore and Hong Kong, to a massive US and Canada tour, on to South America and now into Australia. And we're still organizing more for this year too!
Was there a particular moment or was it a gradual lead up to realizing that things MUST change in order to reduce waste behind the bar?
There have been a few moments that really got our attention when we were starting this whole thing. I think one was as we were working a high volume spot, turning around and seeing two of those massive round garbage bins filled with lime husks. Honestly, 3 cases of lime a day bought and gone over a Friday service seemed a tad excessive and we just thought we could do something different. You're always expected (in most bars) to be able to turn out a margarita or a daiquiri and yes, that requires lime juice, but it was to prove that there are other uses and ways of saving fucking money on those things! Limes (especially in Canada) are damn expensive!
Another mega issue we're facing is single use plastics. Obviously the bar industry comes with its hurdles in terms of "necessary" packaging, but figuring out different ways to still have the things you need (straws in crushed ice drinks, beverage napkins and so on) but making sure they are reusable, compostable or recyclable is another thing. We just posted a straw article on trashtikisucks.com which gives comparable non-plastic alternatives that are actually USEFUL. There are so many "no plastic straw" campaigns out there but it just seemed that no one wanted to do the research as to what else you can do, so we did it for ya!
We'll always be finding the next thing to change in our bars, it's definitely been a gradual process. The best part is that people are giving a shit, and paying attention which means that while change is slow, it is still happening.
We've seen some ingenious recipes come from Iain Griffiths and yourself; two extremely delicious orgeats, one made from stale almond croissants and the other from avocado pits; have your travels inspired you to come up with any other main stay recipes?
We definitely have, the tepache is always a favorite, citrus stocks, and pulp cordials, basically different ways of getting flavours of what we already have. They're all up on trashtikisucks.com
How many cities have you toured now?
We are in Melbourne at the moment, city number 46!
Any particular ones that hold a special place?
We were so inspired by the people, culture and the markets in Bogota, Colombia! We did a seminar there at 9am and had over 50 bartenders show up, some who had worked until 4am the night before. It's a new and really awesome scene there. Seoul and Taipei blew us away too, the food, art and fashion in both places were wicked. Taipei has a really fucking cool bar scene. Would go back in a heartbeat.
Guilty pleasure snacks while you're on the go?
Playing avoid the airport food has been a fun game. Although we had Dim Sum in the Hong Kong airport and it was amazing. Honestly we've been eating in so many cities, it's hard to find one thing consistent. Although anywhere we can grab a Onigiri from 7-11, thats the jam, I wish they were everywhere!!
Best high end cocktail bars you've been to? Best dive bars?
We have made a point of going to a dive bar in every city. Best we've seen by far was in Madrid, a punk bar called Wrong Way. Typical graffiti everywhere, good tunes, average beer.
For cocktail bars there are two that come to mind straight away that are probably at two ends of the spectrum. Anvil in Houston is just fucking great, big room, super busy, big cocktail list and insanely well knowledged attentive bartenders. Above Board here in Melbourne, which is not my usual go-to, a super small, seated-only, really open style bar (seriously there are seats behind the bar) and not to mention, great fucking drinks!

Between the constant travel, intensive seminars and late nights behind the bar, what is your go-to for getting pumped up? A case of Red Bull with your morning coffee?
Hell no haha. Avoiding that, if anything. Tour life has definitely been intense at times, but really making an effort to have a day to ourselves when we can is so important. Staying excited and in the moment is really necessary as well! There have been times when people have come a long way to come to a pop-up or seminar and it would have been totally shit if we were too tired or hungover to meet them with the same excitement.
Best advice you can give any bartenders who want to make a quick change in becoming more environmentally conscious in their programs and behind the bar?
Honestly our citrus stock is mad easy to do and blends back in with lime juice at a 50-50 ratio. It increases your yield and halves the amount of limes you need. Tastes the same, if not better! Saves you some serious cash too. Also, stop carrying plastic straws, seriously. Use bamboo, Loli-straw, paper, or metal if you really NEED to have a straw… or just grow up and sip your drink like an adult.
We had a chance to try the JB Gin Swaz when you were in Vancouver, can you tell us a bit about what goes into your Tepache syrup?
Probably the easiest thing! Spices, yeast, water, sugar, pineapple skins or pulp, lob it all in a bucket with an airlock on it, leave at room temp for 5 days. Add sugar at 50% of liquid to make the cordial (we batched it in with the spirit so the ferment didn't kick off again).
JB Gin Swaz
45 ml Ford's Gin

7.5 ml Blackstrap Rum
20 ml Tepache Syrup
15 ml Lime stock
7.5 ml Campari
Combine all ingredients, shake over ice, fine strain over crushed ice