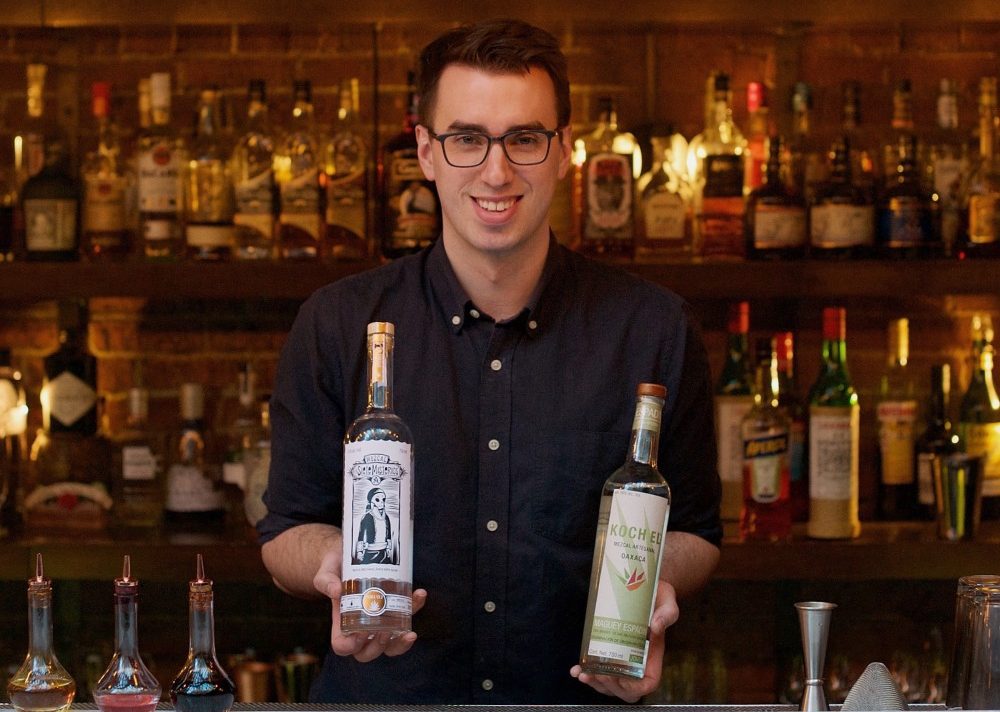 Born and Raised in Calgary, Summers back at home from University in Nova Scotia gave Evan his first taste of the hospitality industry. Starting off his humble years as a busser and bar-back at Earls and eventually moving on to a bartending gig at an Original Joes. Moving to Halifax after graduating from St. Francis Xavier University, he took a job at The Press Gang Oyster Bar as a support staff.
One night he managed to find himself sitting at Jenner Cormier's bar for his last shift at the speakeasy, Noble. After a cocktail or two, he convinced Evan to pass in a resume with a very lacking reach of bar experience, albeit a strong desire to learn and work hard. It was clearly meant to be as he gained the role of bartender, among being able to foster a great friendship with head bartender of The Middle Spoon and Noble, Anne-Marie Bungay Larose, who helped him to improve much along the way. Calling that bar home for three years, he has since moved on to the beautiful vision that is Lot Six, in Halifax. Evan is coming up on a year and half there and loving every minute of it.
Does Lot Six change their bar menu seasonally? 
Yes we do. Typically we have three to four menu changes a year with great seasonal choices, most of which are crafted by the talented Shane Beehan, Bar Manager of Lot Six.
Favorite flavours and spirits to use behind the bar?
I want to say tequila and mezcal are my favourite spirits to work with but I also don't think I could work without some good bourbon or rye either! Lately I've been obsessed with cinnamon, it's such an amazing flavour and perfect for this time of year!
Where will we find you on your weekends?
Friday and Saturdays? Usually behind the Atrium bar at Lot Six! However on MY weekends I can be found hanging out with my wife Bethany or throwing the ball at the park with our dog, Dolly.
Favorite city to travel to?
Honestly, Toronto is one of my favourite cities to visit, I enjoy the energy so much when I'm there and the bar scene is crazy! That being said, there are still many cities on my list that I need to go to!
Your preferred Beer & a Shot?
Depends on the time of the year, I suppose. Right now, I would go for a nice IPA or Red Ale and an American or Scotch whisky. In the summer however, it would be a cider or lager and a mezcal or tequila shot!
Ps how much do you get to mess around with our beloved Cooper behind the bar? (not like we miss him or anything…)
It's amazing having Cooper back in his home town! I personally haven't had too much time behind the bar with him as he spends most days behind Jenner's bar, Bar Kismet. But Cooper comes to pour some drinks with us at least once a week, which is always fun and inspiring, he's a true veteran of the craft! I'm sure Vancouver misses him greatly! A friend to Sovereign Canada, Cooper has been of much help to me while I navigate my way into brand management! 
The Flower in the Field
45 ml The 86 Co Tequila Cabeza

10 ml Siete Misterios Doba-Yej Mezcal
20 ml Amontillado Sherry
20 ml Lime juice
15 ml Cinnamon syrup
Combine all ingredients, shake over ice, fine strain into a chilled coupe