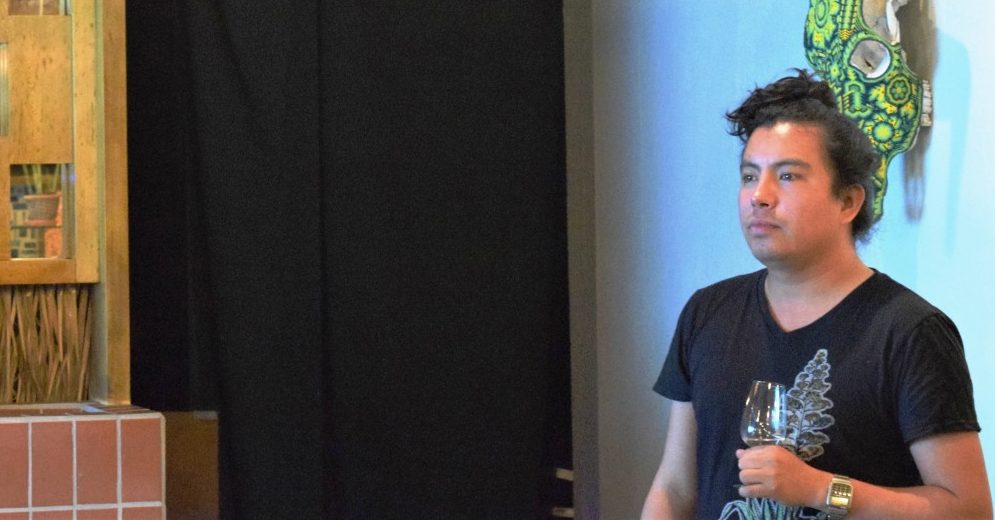 Carlos Manuel López Moreno was born in Oaxaca City on November 12th, 1983, being the son of a Mixtec mother and Zapotec father. He studied architecture at Universidad Autónoma Benito Juárez de Oaxaca (UABJO). In 2008, he founded the project that he continues to lead now, known as Koch El Mezcal. He coordinates 5 companies with more than 170 employees, working actively with 16 communities in Oaxaca, and through small business association, he guides the sowing and cultivation project of 200 hectares in different rural communities of Oaxaca. Carlos always maintains his focus on the act of sustainability, making use of the natural resources in the area, while upholding the responsibility and care of environmental impact. The company exports mezcal to 13 countries and provides consulting services to 10 companies related to the mezcal industry: including a British company, two Belgians and three Americans. 
Tell us a little bit about how you got started in the mezcal trade?
Everything started back in 2008 when myself and Pedro Hernandez founded Sabores Intensos, producing handcrafted mezcal in the state of Oaxaca in the community of San Baltazar Guelavila. The quality and passion we had put into our products was thankfully recognized quite quickly by the local market. With its first sale in Mexico city in 2012, all the while, we were achieving to be included in the menus of prestigious restaurants at international and national levels.
I like to think that ours was the first mezcal company to have a wide portfolio of handcrafted and ancestral mezcal, extending to 12 different expressions of diverse types of agave and that today, exceeds 25 varieties under our Koch brand. We also were the first to call a mezcal blend "Ensamble."
Also, it is important to mention sustainability as a pillar of our company philosophy, having more than 100 hectares sowed in the last years in communities of "Mixteca Oaxaqueña." Nowadays, the company has 175 direct and indirect employees, where 70% of the management are women. The 80% of the production members are migrants workers as well as a portion of them being members of the LGBT community.
The company has participated with different international media outlets such as The Washington Post, New York times, Robb Report, Chefs Table and featured on an episode of Rick Stein for the BBC, where "Koch El Mezcal" quality is highlighted. We currently have brand presence in 13 countries in Europe, North America and South America.
Some of your favorite cities to enjoy a cocktail in?
 New York, Paris, LA
What are some of the ups and downs of working in the mezcal industry?
Prices of agave, as well as its availability.
Your favorite varietal of mezcal to enjoy and why?
Of San Baltazar Guelavila, the Jabalí, the real one, made of 100% of Agave by Maestro Mezcalero Pedro Hernández. This particular one is different, so many others Jabalí are a mixture of Jabalí and other agave species. Its production last 6 months, and currently we have a small batch of only 300 liters.
The other one is from Jayacatlán, one of the few places where the fermentation and distillation takes place in clay pots; its flavor is intensely spiced.
The best mezcal and food pairing?
It may sound cliché but it is the one you like the most, the one you enjoy the most.
As an Oaxacan, I enjoy a good mezcal during the typical festivities, with a good mole or taco.
Where do you see the future of agave going? Do you think we will begin to see more producers as the interest in mezcal gains? And is this sustainable, as certain agave plants can take upwards of 10 years to be ready for harvesting?
Challenging… the growing demand of product right now, for example to produce 1 liter of mezcal we use around 11 kilograms of agave.
Currently the industry represents 5 million liters, which means that to produce them, it is required around 55 million kg of agave, which represents approximately 687 500 hectares to produce the Mezcal we sell.
As a cooperative formed with the collaboration of 16 communities, we have the capacity to produce these volumes, with different cultivated wild agaves.
Your preferred beer & a shot?
During the hottest days in Oaxaca, I enjoy a good Mezcal with plain water.
But his favorite way to enjoy Koch? In a simple Koch & Tonic that highlights the ever so slightly sweet, fruit forward notes in the Espadin.
Negroni Manzanilla
45 ml Koch Espadin

30 ml Chamomile infused Lillet Blance
20 ml Suze
2 dashes Scrappy's Orange Bitters
Stir all ingredients over ice, strain into a chilled coupe