[fusion_builder_container hundred_percent="no" equal_height_columns="no" menu_anchor="" hide_on_mobile="small-visibility,medium-visibility,large-visibility" class="" id="" background_color="" background_image="" background_position="center center" background_repeat="no-repeat" fade="no" background_parallax="none" parallax_speed="0.3″ video_mp4="" video_webm="" video_ogv="" video_url="" video_aspect_ratio="16:9″ video_loop="yes" video_mute="yes" overlay_color="" video_preview_image="" border_size="" border_color="" border_style="solid" padding_top="" padding_bottom="" padding_left="" padding_right="" admin_toggled="no"][fusion_builder_row][fusion_builder_column type="1_1″ layout="1_1″ background_position="left top" background_color="" border_size="" border_color="" border_style="solid" border_position="all" spacing="yes" background_image="" background_repeat="no-repeat" padding_top="" padding_right="" padding_bottom="" padding_left="" margin_top="0px" margin_bottom="0px" class="" id="" animation_type="" animation_speed="0.3″ animation_direction="left" hide_on_mobile="small-visibility,medium-visibility,large-visibility" center_content="no" last="no" min_height="" hover_type="none" link=""][fusion_text]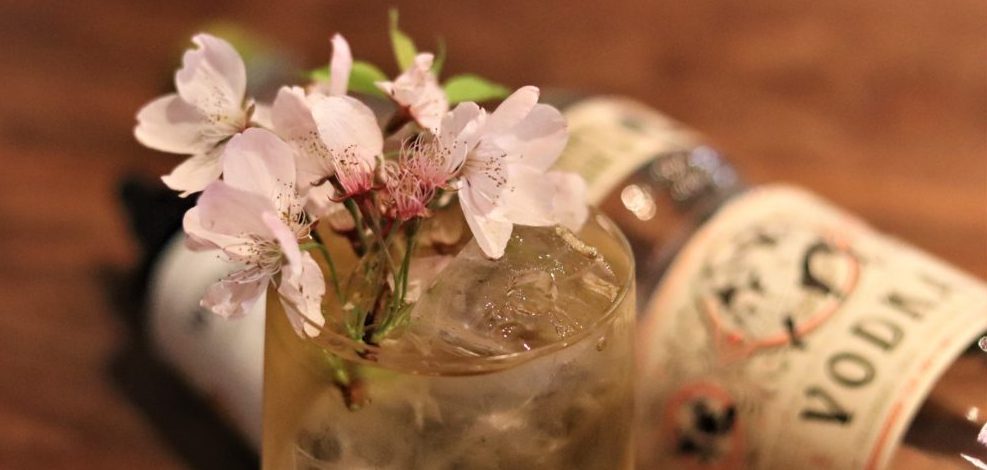 For our first installment of Change of Season, we're sitting down with Brendan Wooldridge who mans the bar at the renowned establishment, Chambar: a Belgian "by way of Morocco" restaurant in Downtown Vancouver. With a cuisine that showcases bold flavours and plenty of complexity, it only makes perfect sense that these dishes would be paired with Wooldridge's creative and utterly delicious cocktails.
With as many accolades as the bar he stands behind, Brendan has been a force in Vancouver's bartending scene since he made the crossover from kitchen to cocktail. 
Do you get a chance to change your menu seasonally?
We change our menu a couple of drinks at a time, and yes, we absolutely take inspiration from the seasons and all of the great local bounty we have in Vancouver
What are some flavours and herbs you've drawn inspiration from for the spring and summer list?
This time of year to me is all about local produce. Having grown up near the berry farms in South Delta, I spent many a sunny afternoon picking strawberries and blackberries directly from the vine (some even made their way home). I channel this nostalgia into the bar program, processing lots of local fruit into shrubs (drinking vinegars) and preserves. We also macerate our own bourbon cherries, working with a farmer in the Okanagan, which despite being a labourious process is very well worth it. Ultimately, whatever we create, we want to be proud to share it with our guests.
I also recently rediscovered lovage, which I realize was the secret ingredient to much of my late Oma's cooking. We are now obsessed with it in my household, and have a couple plants growing on the patio. I haven't worked it into a cocktail yet….but stay tuned!
What will you be drinking with your friends in the summer time?
Strawberry-balsamic shrub & soda, cider, juicy light-bodied red wines….and Hey Y'alls. Don't knock 'em!
Do you make any speciality cocktails when you're throwing parties at your home?
I love making a big decanter of a stirred and classic cocktail, like a Negroni or Manhattan. But in the summertime, I love putting my own spin on Sangria by macerating the aforementioned local fruit in brandy for a few days and mixing it with wine to enjoy on a sunny patio. 
What are your favorite local spirits and wineries?
The Sheringham Distillery is awesome! Their Seaside gin, macerated with local winged kelp makes for a delicious and savory gin, totally deserving of its recent accolades. Arbutus Distilleries Absinthe is also a recent standout, and Odd Society's Creme de Cassis is a perennial favourite. Wineries that are always must visits for me are Orofino, Clos du Soleil, Howling Bluff, and Meyer. I have yet to visit Sea Star on Pender island but they make some of my favourite food pairing wines that we often carry at Chambar.
Any travel plans for the summer?
After being away a fair bit last summer, we are staying a bit closer to home this year. There will definitely be some camping trips. British Columbia is so amazing and with so much to do this time of the year, who needs to leave?

We know that you have a background in cooking, is there a particular stand out dish and drink pairing that you love?
My first eureka moment with food and wine was many years ago, while enjoying a spicy green curry and a Gewürztraminer from Cassini Cellars in the South Okanagan. That will always be a favourite combination! Cheers to my mom and dad for introducing me to the potentials of food and beverage pairings (and responsible drinking) at a young age. We have plenty to learn from the Europeans in that regard!
The Sun & Her Flowers
1.5 oz The 86 Co. Aylesbury Duck vodka

1 oz Clos du Soleil 'Saturn'

.25 oz Strega

2 droppers Bittermens Orange Cream Citrate

3 oz cold-pressed white tea

Build in a juice tumbler over large ice cubes and stir. Garnish with a lemon peel & edible flowers
[/fusion_text][fusion_builder_row_inner][fusion_builder_column_inner type="1_3″ layout="1_3″ spacing="" center_content="no" hover_type="none" link="" target="_self" min_height="" hide_on_mobile="small-visibility,medium-visibility,large-visibility" class="" id="" border_size="0″ border_color="" border_style="solid" border_position="all" border_radius="" box_shadow="no" dimension_box_shadow="" box_shadow_blur="0″ box_shadow_spread="0″ box_shadow_color="" box_shadow_style="" padding_top="" padding_right="" padding_bottom="" padding_left="" dimension_margin="" background_type="single" background_color="" gradient_start_color="" gradient_end_color="" gradient_start_position="0″ gradient_end_position="100″ gradient_type="linear" radial_direction="center" linear_angle="180″ background_image="" background_position="left top" background_repeat="no-repeat" background_blend_mode="none" animation_type="" animation_direction="left" animation_speed="0.3″ animation_offset="" filter_type="regular" filter_hue="0″ filter_saturation="100″ filter_brightness="100″ filter_contrast="100″ filter_invert="0″ filter_sepia="0″ filter_opacity="100″ filter_blur="0″ filter_hue_hover="0″ filter_saturation_hover="100″ filter_brightness_hover="100″ filter_contrast_hover="100″ filter_invert_hover="0″ filter_sepia_hover="0″ filter_opacity_hover="100″ filter_blur_hover="0″ last="no"][fusion_woo_shortcodes][product id="3563 " sku=""][/fusion_woo_shortcodes][/fusion_builder_column_inner][fusion_builder_column_inner type="1_3″ layout="1_3″ spacing="" center_content="no" hover_type="none" link="" target="_self" min_height="" hide_on_mobile="small-visibility,medium-visibility,large-visibility" class="" id="" border_size="0″ border_color="" border_style="solid" border_position="all" border_radius="" box_shadow="no" dimension_box_shadow="" box_shadow_blur="0″ box_shadow_spread="0″ box_shadow_color="" box_shadow_style="" padding_top="" padding_right="" padding_bottom="" padding_left="" dimension_margin="" background_type="single" background_color="" gradient_start_color="" gradient_end_color="" gradient_start_position="0″ gradient_end_position="100″ gradient_type="linear" radial_direction="center" linear_angle="180″ background_image="" background_position="left top" background_repeat="no-repeat" background_blend_mode="none" animation_type="" animation_direction="left" animation_speed="0.3″ animation_offset="" filter_type="regular" filter_hue="0″ filter_saturation="100″ filter_brightness="100″ filter_contrast="100″ filter_invert="0″ filter_sepia="0″ filter_opacity="100″ filter_blur="0″ filter_hue_hover="0″ filter_saturation_hover="100″ filter_brightness_hover="100″ filter_contrast_hover="100″ filter_invert_hover="0″ filter_sepia_hover="0″ filter_opacity_hover="100″ filter_blur_hover="0″ last="no" element_content=""][/fusion_builder_column_inner][fusion_builder_column_inner type="1_3″ layout="1_3″ spacing="" center_content="no" hover_type="none" link="" target="_self" min_height="" hide_on_mobile="small-visibility,medium-visibility,large-visibility" class="" id="" border_size="0″ border_color="" border_style="solid" border_position="all" border_radius="" box_shadow="no" dimension_box_shadow="" box_shadow_blur="0″ box_shadow_spread="0″ box_shadow_color="" box_shadow_style="" padding_top="" padding_right="" padding_bottom="" padding_left="" dimension_margin="" background_type="single" background_color="" gradient_start_color="" gradient_end_color="" gradient_start_position="0″ gradient_end_position="100″ gradient_type="linear" radial_direction="center" linear_angle="180″ background_image="" background_position="left top" background_repeat="no-repeat" background_blend_mode="none" animation_type="" animation_direction="left" animation_speed="0.3″ animation_offset="" filter_type="regular" filter_hue="0″ filter_saturation="100″ filter_brightness="100″ filter_contrast="100″ filter_invert="0″ filter_sepia="0″ filter_opacity="100″ filter_blur="0″ filter_hue_hover="0″ filter_saturation_hover="100″ filter_brightness_hover="100″ filter_contrast_hover="100″ filter_invert_hover="0″ filter_sepia_hover="0″ filter_opacity_hover="100″ filter_blur_hover="0″ last="no" element_content=""][/fusion_builder_column_inner][/fusion_builder_row_inner][/fusion_builder_column][/fusion_builder_row][/fusion_builder_container]