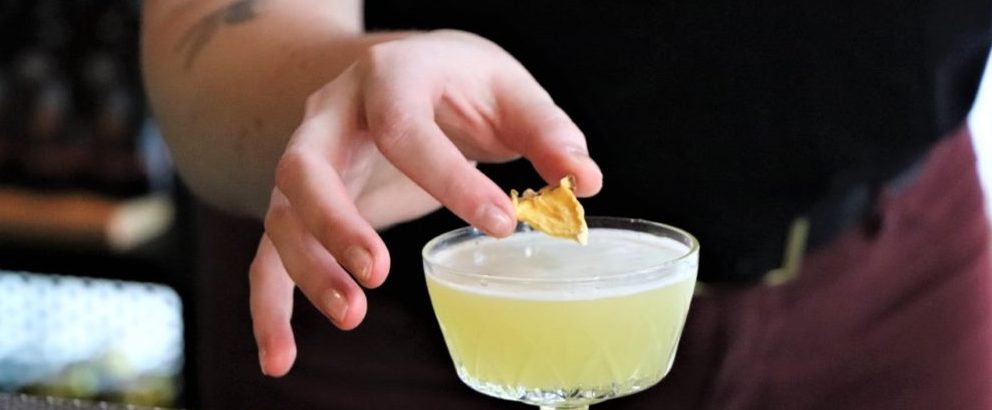 A mainstay on Vancouver's bar scene, Olivia has made her mark as both an amazing bartender and influencer with her side project, Bitter Queens. She made her move into bartending as a natural progression from her culinary background. Starting at Uva, and moving on to both Juniper and Vij's, to find a home running the beverage programs for Juke Fried Chicken and Little Juke. Her most recent accolade includes being crowned the Canadian winner of the renowned Giffard West Cup, which landed her a spot in the final competition in Angers, France. We are looking forward to seeing what the next step is for this incredible woman.
Tell us about "Bitter Queens" and how the idea came to fruition?
A question I'm more than happy to keep answering! Bitter Queens is a cocktail photography project that features craft cocktails designed in the image of, or inspired by, drag artists. It's run by myself, and Tiago De Souza Jensen, my creative partner. He and I used to work together, and after one particularly awful shift, I made him a bitter, boozy drink that we named after Bianca Del Rio. It snowballed from there, and a year later, we're photographing our creations weekly and occasionally designing cocktails for local drag events.
Favorite dish and beer pairing at Juke?
Four Winds La Maison Wild Saison and our cauliflower tahini salad.
What drinks do you like to make when entertaining friends at home?
When I have people over, I'm a big fan of making sparkling cocktails. They're fun and impressive, and make it easy to switch over to wine so I'm not shaking drinks all night. My go-to sparkling drinks are a classic French 75, or a signature Bitter Queens cocktail which features sparkling rosé and Odd Society's Mia Amata amaro.
Favorite patio in the city?
Reflections at the Hotel Georgia
You've got a Sunday off on a beautiful summer day in Vancouver, what's your perfect day?
For a sunny day in Vancouver, I want minimal set plans! Give me a picnic and wine in the park with some friends, and I am the happiest camper.
Favorite spring and summer flavors to work with?
Rhubarb is one of my favourite flavours this time of year. I think it's underutilized, and very versatile. As we move further into summer, I'm partial to cantaloupe, and also cherries.


Golden Years
1.5 oz Ford's Gin

0.5 oz Yellow Chartreuse
1 oz Pineapple Juice
0.5 oz Honey Syrup
1/2 barspoon Citric Acid
Combine all ingredients, shake over ice, fine strain into a coupe glass. Garnish with dehydrated pineapple