Sorry you couldn't join us live..  but don'y worry, we've got you covered!
Find a selection of our past events below.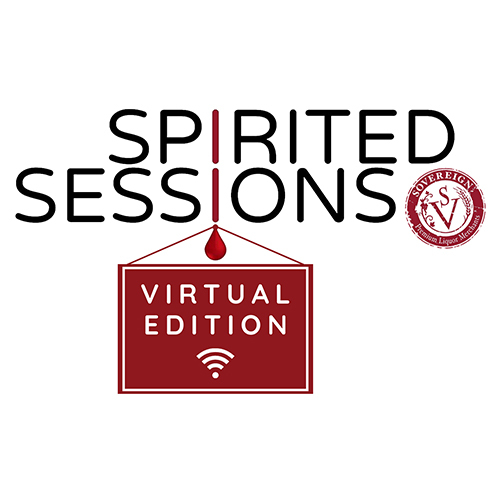 ABOUT SPIRITED SESSIONS:
Meant for community and professional development, Spirited Sessions is a bartending and drinks enthusiast seminar series. The goal; achieve higher growth and education amongst Canadian bartenders while having a great time. Spirited Sessions has always been about fostering community growth, coming together, sharing dialogue, sharing stories, staying educated, and keeping sharp. JOIN OUR NEXT SESSION – Visit the Events Calendar
VIRTUAL SESSIONS:
Just because we have to practice social distancing doesn't mean we can't stay social. The silver lining? We can now extend this month's module beyond the bar community to all Canadian hospitality professionals. Everybody into the chat room!
PAST EVENTS: 
The Big Pivot -Adapting Hospitality's Revenue Streams,
Hosted by Nick Kennedy of Civil Liberties, Toronto
with
Jesse Willis, Vine Arts Wine & Spirits Calgary,
Evelyn Chick, EC Projects ( Toronto/ San Francisco) ,
Chris Chuy, Lavish Liquid, Vancouver,
Gabrielle Panaccio, BAr le Lab, Montreal
ABOUT THIS SESSION: We gathered a panel of industry leaders from across the country who have taken everyone's favourite new term, "pivot", to actualize new business opportunities. Whether it's to-go cocktail kits, online consulting, or content creation, no revenue stream by these 5 mavens have been left unconsidered. Hosted by Toronto bar owner Nick Kennedy of Civil Liberties, alongside an esteemed panel of guests from four different provinces, we'll examine the possibilities and potential ventures for the hospitality professional going forward in Canada's new reality.
Dia de Los Muertos – Day of the Dead with Los Siete Misterios,
Hosted by Eduardo and Julio Mestre Co-Founders of  Mezcal Los Siete Misterios,
with Johnny Gray, Mezcal enthusiast and spirit expert and Advocacy Director at Drink Tank will give us a local perspective
October 26, 2020
ABOUT THIS SESSION: Coming to you straight from Mexico, this month's Spirited Session takes us on a fully immersive education on Dia de Los Muertos – Day of the Dead. Rooted as far back as the Aztec calendar, the festival we know today as Dia de Los Muertos has undergone a fascinating evolution throughout time. Despite its many permutations, one thing has remained consistent: it has always been an intrinsic part of the region's culturally rich heritage. Join Mexican born and raised, Eduardo and Julio Mestre from Mezcal Los Siete Misterios to talk to us on the topic. They'll lead us on an interactive discussion about the historical background of Dia de Los Muertos, how it's viewed in Mexican culture today, as well as what people eat and drink during this yearly celebration – (hint there's plenty of great food, tequila, and mezcal involved).
Sovereign Canada: https://sovereigncanada.com/lossietemisterios
Los Siete Misterios: https://www.sietemisterios.com/en/
Understanding Cachaça
Hosted by Peter Nevenglosky, co-founder of Avuá Cachaça,
with Carol Gutierres, a professional bartender in Rio De Janeiro, will give us a local perspective
October 5, 2020
ABOUT THIS SESSION: Whether you're a cachaça enthusiast or have never even heard of this cane distillate before, this session will be approachable, fun and informative. The growth of cachaça in Canada has taken off and we're honoured to help in any way we can to champion the category.
Taverns, Trade & Temperance in the Canadian Maritimes
Hosted by Historian Emily Burton PhD
Moderated by Shane Beehan, Bartender and Maritime History Enthusiast
June 15, 2020
ABOUT THIS SESSION: Join us as we take on the Maritime shores. Presented by two of the most professionally qualified Maritime history buffs in the region, we'll dive deep into the annals of the Maritimes past and learn how alcohol shaped the region. We're honoured to have Emily Burton PhD, an Oral Historian in Halifax, Nova Scotia and Shane Beehan, bartender, drinks enthusiast, and one of Halifax's favourite storytellers to take us through this journey. Focusing on the first taverns, the governance of alcohol, we'll examine the first communities built on the Atlantic shores, the region's bright bar scene, and some of its darker past.
A deep dive into Peruvian Pisco
With Carlos Romero of Encanto Pisco and Silvana Loloy of Curayacu Tiki Bar in Peru
Moderated by Kassandra Montano, Offsite Events & Catering Boston, MA
May 25, 2020
ABOUT THIS SESSION We invited Kassandra Montano of Offsite Events, Carlos Romero, owner and distiller of Encanto Pisco and Silvana Loloy, founder of Curayacu Tiki Bar to help us explore the fascinating history, the diverse terroir and the modern Peruvian perspective of this incredibly intricate grape distillate. As exciting as pisco can be, categorical education is paramount right now. Without a proper understanding of pisco, it can be a struggle to contextualize a spirit that is booming in popularity but is not without some fairly serious modern-day hurdles to overcome.
Encanto Pisco: https://www.instagram.com/encantopisco/
Curayacu Tiki Bar: https://www.facebook.com/curayacutikibar/
Sourcing & Distilling Whiskey
With John Little and John Foster of Smooth Ambler Spirits
Moderated by Jon Gray of Drink Tank and the Bartenders Benevolent Fund
May 11, 2020
ABOUT THIS SESSION: Walking through the complicated world of sourcing and distilling for your own brand. Today's whiskey market is often full of brand stories with the mention of special recipes passed down from generation to generation. As romantic as these stories sound, at times they are indeed just that – stories. One of the most charming parts of Smooth Ambler is how they conduct themselves in a straightforward manner with full transparency about their entire operation. Their honest approach, combined with their phenomenal sourcing and distilling skills, has truly become their own 'brand story'. It also helps that their whiskies are really good.
Maceration Hacks 101
Hosted By Cole Benoit Of Apothecary Bitters
April 27th, 2020
ABOUT THIS SESSION: Tapping into the brain of "mad-scientist" Cole Benoit, owner and co-founder of The Apothecary Bitters Company from Vancouver B.C. this session covers the basics of home maceration and how to create fantastic bitters and tinctures using only minimal ingredients you may already have around the house. Cole's bartending background gives him a unique perspective on flavour combinations, while his expertise as the co-founder of The Apothecary Bitters Company gives him the skills to create and teach you how to make your own.
Let's Mezcal About It
Hosted By Carlos Moreno of Koch El Mezcal
& Kesley Ramage of Supernova Ballroom and Trash Tiki
April 13th, 2020
ABOUT THIS SESSION: In this session, we take a deep dive into the category of agave and mezcal with Koch Mezcal founder, Carlos Moreno from his home in Oaxaca, Mexico. We were also blessed to have the session hosted by Kelsey Ramage of the Supernova Ballroom in Toronto and co-founder of Trash Tiki Carlos runs us through the world of mezcal, covering topics such as the origin of the spirit, its regions and traditions, the different types of agave and their main characteristics as well as answering some spectator questions. Carlos is one of the leading experts in the industry. He continues to provide quality jobs to the people of Oaxaca, constantly looks for a sustainable future for the industry and all with the goal of producing the best mezcal possible!
Everything You've Ever Wanted To Know About Gin
Hosted By Simon Ford of Fords Gin
March 30th, 2020
ABOUT THIS SESSION: In this Spirited Session, Simon Ford broadens the horizon of gin and talks about the category as a whole. As the title suggests, Simon is going to drop some serious gin knowledge for us as he touches on everything from gin's storied history, to how it's made, to contemporary stylistic differences, to the future of the category. We get pretty comprehensive, so strap on your juniper belts and enjoy the ride.